Navigating the Holidays with a Sick Child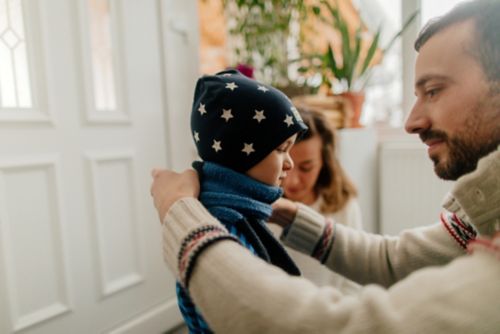 Society tells us the holidays should be a time of celebration and joy. But they may also bring feelings of stress and worry. When your child is seriously ill, the holidays can be even more challenging.
Celebrating the holidays with a sick child is a delicate balance of taking care of your child's health while still finding ways to make the season special for your family. But of course, your child's health comes first.
You may have to change the way you celebrate. Your child may not want to do certain things if they are tired or do not feel well. The status of your child's immune system or treatment plan may dictate decisions about attending gatherings. This can make it hard to commit to plans or outings. It may also mean temporary separations from loved ones.
This uncertainty can complicate an already stressful time of year.
Even with these challenges, you can find meaning and joy during the holiday season. There is no right or wrong way to navigate the days ahead. It is important to do what you feel is best for your child and family.
Here are a few tips that some family caregivers have found helpful.
Acknowledge the emotions of the season
You may have many different feelings, especially during the holidays. You might be worried, sad, scared, or frustrated. You may feel lonely or overwhelmed. There may even be a sense of grief or loss when traditions or routines must change.
Each member of your family will process emotions in different ways. One person may be excited about starting a new tradition. Others may feel let down if they cannot take part in a favorite activity. It can be helpful to share your emotions about this as a family. Be patient with yourself and others as you navigate the holidays together.
Acknowledge changes and consider new traditions
It is normal to be exhausted while juggling these emotions with the demands of taking care of your child. You may find that small tasks or simple decisions take more effort now. Some holiday responsibilities may just be too much to complete.
You do not have to do everything you did in the past. For example, you may decide not to send holiday cards or attend a certain event.
You can also start new traditions. Ask your family how they want to spend the holidays. This helps include everyone in making choices about traditions. Remember, just because you choose to do something different (or the same) this season does not mean you have to do it again next year.
Extend yourself grace over guilt
It may be difficult for others to understand what you are going through. Your choices about how to spend the holidays may even upset other people. When this happens, give yourself some grace. Find moments of rest and comfort.
This might look different than it did before your child became sick. If being outdoors brings you a sense of peace, you might not be able to spend all day at a nature preserve. But you could go outside for a few minutes each day. If sharing a meal with a friend helps you, consider a phone call instead if you are far apart this year.
Spend time with people who uplift your spirits and bring you hope. Talk with other caregivers who know what you are going through.
Ask for help
Do you need help with errands, meals, buying holiday gifts, or cleaning your home? Reach out to others when life gets challenging. If you are not sure who to ask, talk with your child's social worker or another member of your care team for guidance.
Find joy in small moments
While navigating the holiday season can be stressful, some caregivers find that the experience changes their perspective. You may find that the holidays bring joy that you did not expect. Treasure moments of meaning and hope.