The cancer care team, stronger Together
Every year, childhood cancer groups around the world celebrate International Childhood Cancer Day February 15. The 2022 theme is "Better survival is achievable #throughyourhands." It pays tribute to health care team members who dedicate themselves to improving the lives of children with cancer.

When your child is treated for cancer, there are some members of the health care team that you see daily. Others work hard in the background. Nurses access your child's port-a-cath and give chemotherapy. Doctors check your child from head to toe.

Working together to help patients
As a nurse practitioner, I am grateful every day to the members of my team. We all work together to think about the best way to care for children with cancer. We don't just think about how to cure a child.

We put our heads together to make sure children have the best quality of life possible. The pharmacist ensures the correct medicines are ordered. Child life specialists work with nurses to help children have a stress-free poke. We even have four-legged team members who work their tails off to make treatment easier for children.

Every health care team member has had special training in their field. Many have done extra work in pediatric oncology. We each bring a unique viewpoint and important ideas that help other team members think of the best solutions for patients. You may see this team hard at work during rounds, helping each other to best help you and your family.

Joining together during challenging times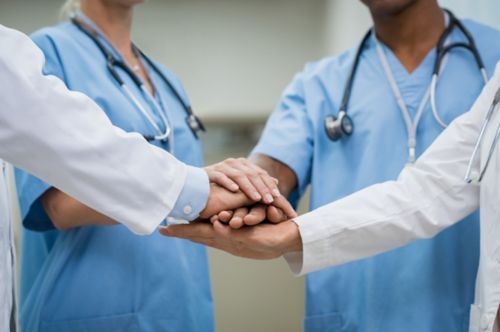 Over the past two years, your health care team has come together to continue care. Even when we couldn't be together physically, teams found creative ways to work. Hallway conversations became text messages. Meetings moved online. Tablets and computers helped clinics connect with patients.
Teams could no longer share ideas over lunch or support each other with a hug after a tough day. But we spread out 6 feet apart and smiled so big you could see it through our masks.
There were times early in the pandemic when some team members worked from home or could not come to the hospital. During these times, children did not have the support of child life specialists during procedures. They may have missed their favorite hospital schoolteachers. Doctors and nurses worked without the in-person support from important team members.
When we were able to welcome our full teams back, we knew more than ever that the health care team is stronger when we are together. This year on International Childhood Cancer Day we celebrate the health care team. Better care is possible for all children with cancer through their hands.
For more information on International Childhood Cancer Day, visit its website.
Find related content on Together, including articles on: