My Childhood Cancer Story
Editor's note: This blog post was originally written in Spanish. To read the original version of the article, click here.
—
My story began in Huancayo, Peru, in June 2019, when I was only 12 years old. I suddenly started feeling bad. I felt tired and sleepy; I did not want to do anything. I then developed a fever, so my parents took me to a pediatrician, who prescribed me antibiotics because he saw something red in my throat.
While putting on my pajamas back home, I noticed that my knees had some bruises. The bruises didn't hurt. I thought they were from volleyball, but I didn't remember getting hit. My dad then told me that he would take me for blood tests. I didn't know this would be the start of my story with childhood cancer.
The following day, my dad took me for blood tests and then back to school. While in gym class, my teacher called me and took me to my parents, who were waiting at the school lobby. My parents got me in the car without telling me much and took me to Hospital EsSalud in Huancayo. A doctor examined me there, and then my parents said that we would have to go to Lima, the capital of Peru, for another doctor to see me. Lima is over seven hours away from Huancayo by car. I noticed they were preparing an ambulance for me, but I didn't understand what was happening.
An Unexpected Trip to Lima
My mom and I got into the ambulance, and my dad handed us a blanket. They closed the ambulance doors, and we immediately started our journey to Hospital Nacional Guillermo Almenara Irigoyen in Lima. We waited a long time there to be called, but then a very nice doctor came and took blood samples from me.

The following day, more doctors examined me. Three days later, I was taken to the pediatric hematology-oncology area of the hospital. That day at noon, Dr. Hernández, my pediatric oncologist, examined me and explained how my treatment would be. It was then that I learned that I had leukemia.

Two days after learning about my diagnosis, I had flow cytometry tests done to see how much of my body had the disease. I started my chemotherapy treatments immediately after and stayed in the hospital for five months.
In the fourth month of my hospitalization, my twin sister visited me. That was the happiest day of my life. I had spent so long without seeing her, without hugging her, and I missed her so much. When she came in, I hugged her as hard as I could. I remember that I cried, and everyone looked at me. After a while, my dad came in, who I hadn't seen either. I hugged him too so hard that I started crying again. He stayed with me for a couple of days while my mom went home to rest. But only after three days of being with me, my dad and sister returned to Huancayo. I didn't want them to leave, but my dad had to work, and my sister had to go to school.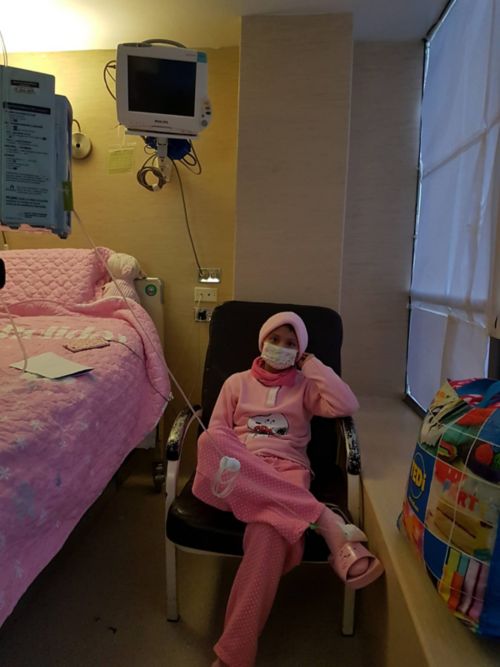 Then I had to go back to the hospital for my third chemotherapy cycle. I went into the hospital with much more strength and desire to continue my treatment. On the sixth day of chemotherapy, however, I reacted to L-asparaginase. I remember that I got hives, and the reaction made me want to vomit. I instantly fell asleep from the medications they gave me. When I woke up, I talked to my dad and sister on the phone. I cried a little as I told them how bad I felt. Because I reacted to one of the chemotherapies, they had to switch me to another similar one. The injections of the other chemotherapy hurt a lot, but I held on because I knew they were for my good.
When I finished my chemotherapy cycles, which were six in total, my white blood cells and platelets dropped a lot. They went down to the point that my whole body started to ache; I remember that it was excruciating pain and that I got a fever. The doctor told us it was due to neutropenia, so they gave me platelet and blood transfusions. Sometimes, there were no platelets in the hospital, so my mom would donate to me. When there was no blood, my dad would.
When I finished all my chemotherapy cycles, I was discharged from the hospital. Upon my return to Huancayo, my little sister organized a beautiful welcome party for me. But three days after returning home, my mom received a call from Edgardo Rebagliati Martins National Hospital in Lima. They told her that I had to return to Lima to undergo a bone marrow transplant. I needed a bone marrow transplant because I had high-risk leukemia. We did not know what to do at that moment, but we were on our way back to Lima the following day.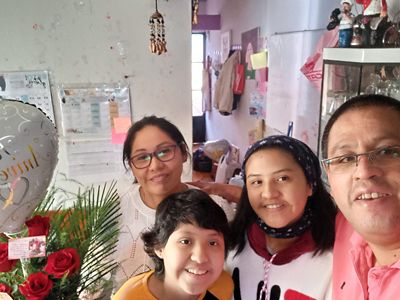 Once in the hospital, my mom told me that I would have to stay there without her this time due to the pandemic restrictions. This made me sad because I had always been with her throughout the treatment. However, despite everything, I remember I felt enthusiastic when they admitted me at 6 o'clock in the afternoon. Although I began to cry shortly after.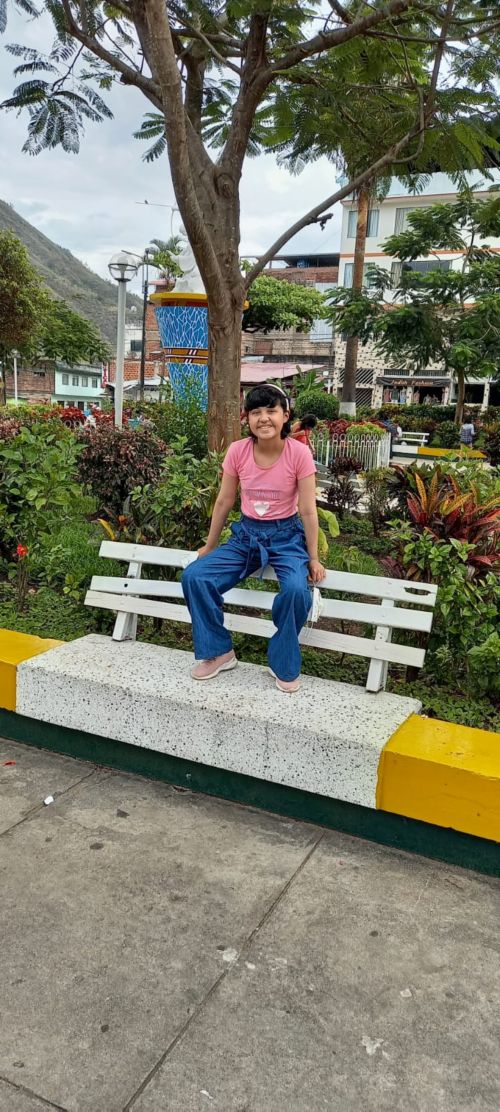 Three days before the transplant, I received radiotherapy and chemotherapy. And on September 14, 2020, I had my transplant. I feel I was reborn that date thanks to my great and beautiful mother, who donated her marrow to me. I am very grateful and indebted to her because she gave me life again. I'm also thankful to my father and sister for always being with me and my family and school friends for their support.
Today, thank God, I'm well. Although I'm still taking some medicines, it's not a big deal. The most important thing is that I am standing here in good health, able to fulfill all my goals. I never gave up. Instead, I kept going despite everything.
Every moment of pain helped me to carry on with more strength. Sometimes I felt like I couldn't take it anymore, but I didn't give up because of my family, who were always my inspiration. When I grow up, I want to be a pediatric hematologist because there are very few pediatric specialists here in Peru. 
This is my story. It had sad moments, but also happy ones. And what's most important is that I'm still writing it. When I reflect on my story with childhood cancer, I think about how the sun always shines after the storm.
Find related content on Together, including articles on: