Having Cancer in College Stopped Me in My Tracks and Helped Me Realize My Strength
Cancer has affected my life both negatively and positively. It was the darkest and scariest year of my life but also one of the most important.
I was diagnosed right before my sophomore year of college. I had just made a really great group of friends and was excited to be there. The world was my oyster, as they say. My diagnosis stopped me in my tracks.
Cancer Taught Me About Myself and Relationships
But even through the surgeries, the chemo, and the radiation, I was able to form stronger relationships with my family, especially my mom, sister, and brother in-law. I was close with them before my diagnosis but going through cancer together brought us even closer. They supported me in ways that I did not know I needed.
I also found out who my true friends were. When you are diagnosed with cancer, some friends won't be able to handle what you are going through. Some will show you that you are not alone.
I learned a lot about myself through my journey, and I am thankful for the good things cancer brought me. Going through such a difficult journey made me realize how strong I really am.
There were times where I wanted to give up, but I just kept pushing through. I kept telling myself, "I can do one more round." I am now almost two and a half years cancer free, and some days I completely forget about that dark year. I still have the scars and the long-term effects of radiation and chemo, but these reminders no longer make me sad.

Epic Experience Helped Me Connect with Others
Almost a year after I finished treatment, I signed up to go to an Epic Experience camp for adult cancer survivors. That was one of the best weeks of my life. Being able to talk to people who had gone through the same thing was so nice and made me feel less alone.
I learned that there was still a vibrant life to live after cancer and that I could still push my body to its limits and embrace every minute of every day. I found that I enjoyed talking about my cancer journey and found comfort in laughing about the hard stuff. Epic gave me back something I didn't realize I was missing. 
Before I went to camp, I still felt fragile and sensitive after going through treatment. After spending a week with other cancer survivors and thrivers and pushing our bodies to the limits, I felt stronger and felt like I could get back into living my life to the fullest without being afraid of feeling broken from cancer. Although cancer will always be a part of my life, it doesn't define me.
About a year after I attended camp, I joined the Epic Experience alumni team. Volunteering for Epic Experience and being a part of the alumni team has been so much fun and so fulfilling. I have always been someone who loves helping people. Knowing I can be a part of something that helps cancer survivors live beyond cancer has truly been a blessing.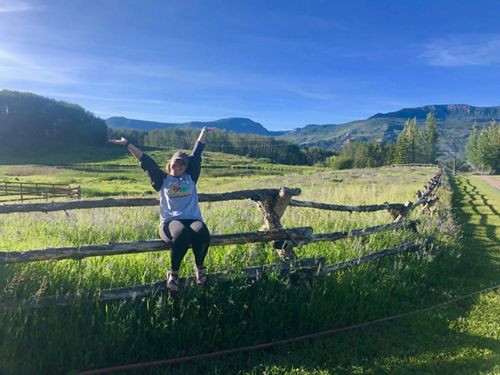 My job as a part of the alumni team is to post engaging questions to our alumni Facebook page to help keep people connected in a fun way. It is always interesting to see people's responses and learn more about the Epic community. I always try to post something relevant to the time of year and something that I would enjoy responding to. Although I am the youngest alumni member, I feel like being able to share posts that help connect people from different generations is the best way to keep people involved. Every three weeks I post a more thoughtful and deep conversation similar to the campfire chats we had during camp. When it comes to virtual events, thinking of ways to engage every age group and having both hard and fun conversations is the best way to bring in excitement. Being a young, Gen Zer I love that Epic Experience is active on many social media platforms such as Facebook, Instagram, and YouTube. I think sharing activities and engaging with the community on all platforms is important.
I also like the type of activities that Epic Experience uses to engage the cancer community. Epic caters to people who want to be active both mentally and physically. We have cooking classes, yoga classes, social hours, and virtual camps. Providing events that everyone can participate in helps create a tightknit community.

Before I attended Epic Experience, I had never participated in a cancer group because I wanted to put my cancer journey behind me. But after spending a week with other cancer survivors, I learned that it is okay to talk about our journeys and it is also important to remember those hard parts. With my campfire chats I try to share both the darkest parts of my journey and the funny parts. I believe that bringing humor into something as life changing as cancer can help bring people together in a unique way. As some people say, laughter is the best medicine, and bringing playfulness and lightness to an otherwise dark moment is helpful to everyone.

Related Together content on college and cancer: