The Gap Between Knowledge and Practice: Palliative Care in Latin America
We have made great strides in improving treatment for children with cancer over the past 50 years. Cure rates are now more than 80%. But these results are for children living in high-income countries such as the United States or parts of Europe.
Most children with cancer live in low- and middle-income countries. In these places, fewer than 30% of children survive their disease.
Many of these children do not reach the hospital until their cancer is advanced. This causes terrible suffering for children and their families.
Because of this, the World Health Organization (WHO) says palliative care is a "medical and moral necessity."
Palliative care is a special type of care for children facing a serious illness. It focuses on comfort and quality of life. The care team helps manage side effects such as pain. The team also provides social and emotional support for the whole family.
We did not know much about palliative care for children with cancer in low- and middle-income countries. So, we used a survey to find out.
We asked doctors in Latin America:
What they believe about palliative care
How comfortable they are treating patient suffering
What barriers exist to providing this care for children with cancer
Some 874 doctors in 17 countries completed surveys. Here are some things we learned:
Most doctors had not received palliative care education.
About one-third did not have access to palliative care support.
Doctors understood palliative care but were not comfortable providing it to their patients. They knew it could help:

Manage patient symptoms
Improve communication between families and the medical team
Address patient and family suffering

Only half of doctors felt comfortable caring for physical symptoms.
About one-third felt confident caring for emotional needs of patients.
About one-fourth felt comfortable talking about grief and bereavement with parents.
We also asked doctors to describe palliative care in their own words. They often used the word acompañar. It means to accompany, support, or journey with. Doctors recognized that the role of palliative care is to accompany patients and families in their cancer care journey.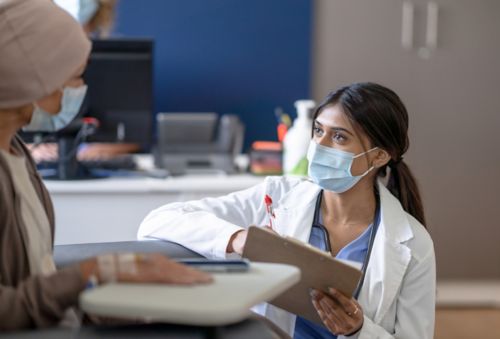 Doctors know the power of palliative care. But they are often uncomfortable providing it. Doctors who had received training felt more confident helping patients and families.
These results are critical. We must help doctors in Latin America treat the suffering of children with cancer. We will use these findings to train doctors. We will help them treat physical, emotional, and spiritual symptoms and feel more confident supporting families after the death of a child.
We will encourage doctors to join families on this journey — regardless of the child's diagnosis or prognosis.
We may not cure all children in Latin America, but we can help them receive the comfort they deserve.