My Cancer Survivor Story: Sandy Owen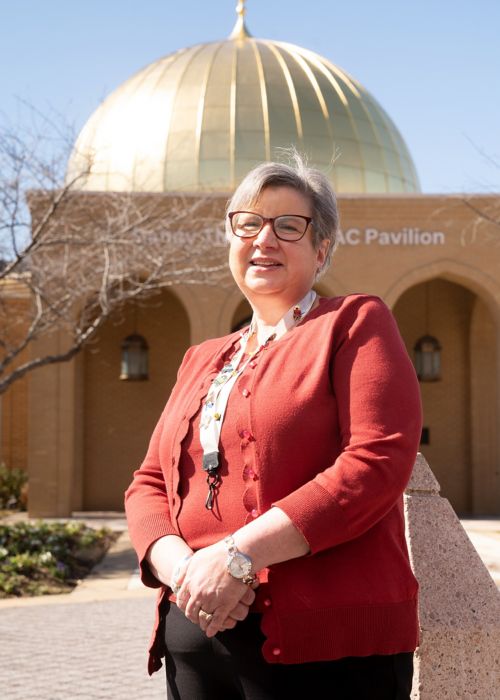 In 1972, doctors diagnosed 4-year-old Sandy Owen with acute lymphoblastic leukemia, the most common form of childhood cancer. She had less than a 50% chance of survival.
Chemotherapy and radiation treatments cured her cancer. Now, 50 years later, she lives each day to the fullest. 

"God's good to me," she says. "I am able to get up every day, go to work, take care of my family, have friends, and go about my usual routine."

But the treatments that successfully treated Sandy's leukemia have had long-term side effects. Childhood cancer survivors often spend the rest of their lives dealing with these late effects.

Taking an active role in her health
Sandy has had many medical problems. Some resulted from her cancer treatment, which included radiation to her brain. She has had 2 brain tumors. It is likely that the radiation damaged her thyroid gland, caused cataracts in both eyes, and resulted in thinking and learning problems. For example, she has problems with spelling and math. She also has myasthenia gravis, a serious muscular disorder.
Sandy pays close attention to her health. She keeps track of symptoms and visits health care providers when needed. She takes calcium supplements for bone health.
"I have wonderful doctors back home. I take care of myself. When something happens to me, I'm serious about it. I let my doctors know," she says.
Sandy's 2 sons were born prematurely. Her older son, David, lived 24 hours. Steven, her younger son, is 24. During David's birth, Sandy's blood pressure got so high that it caused vision problems in her left eye.

"We didn't know we would have all the problems when we had the children, but my husband Tony still supports me in everything. He's a keeper," Sandy says. "We keep on going—taking care of Steven and doing different things together."
Giving back to cancer patients
Sandy's experience led her to become a nurse. She worked a few years at St. Jude Children's Research Hospital, where she received her cancer treatment. Sandy now cares for cancer patients in Tupelo, Mississippi, her hometown. She often reassures them with her story. 
"I love helping people," she says. "It was always my dream to be a nurse."
Sandy takes part in a medical study called St. Jude LIFE. It helps researchers understand the long-term effects of childhood cancer treatments. 
Sandy is doing very well, especially for someone with her history, says Tim Folse, MD, clinical director for the St. Jude LIFE and After Completion of Therapy Clinic at St. Jude. 
"Sandy is a smart cookie," Folse says. "She functions at a much higher level than the average person who was treated with cranial (brain) radiation. She was able to have a child, go to college, and work in health care. She is aware of gaps in memory and functioning."
Celebrating a special milestone
Sandy is grateful for the 50 years she has lived since her cancer diagnosis. Family, faith, and a good night's rest give her the strength to thrive and help others.
"I'm thankful for all that I have been able to accomplish even with the side effects," she says. "I look back and think, 'How did I do it?' God had his arms wrapped around me, holding me, and taking care of me. I had to work a little bit harder for what I have, but it was worth it. I have a reason to live."