Cancer Survivor and Space Traveler Hayley Arceneaux on Stepping Out of Your Comfort Zone
Hayley Arceneaux, a pediatric cancer survivor, was part of Inspiration 4, the world's first all-civilian crew to go to space. In September 2021, she and 3 fellow crew members spent 3 days orbiting the Earth. The Inspiration 4 mission objectives were to study the human body in space and to raise more than $200 million for St. Jude Children's Research Hospital. Hayley was treated at St. Jude and now works there as a physician assistant. In this post, she shares thoughts and insights about her space travel.
I have reflected on my journey to space every hour of every day since we returned home a few months ago.
The entire experience of going to space — from the moment I got the call to join the crew, through training, launching off the planet, and returning through the atmosphere — changed my life.
Working as a physician assistant (PA) with the brave kids at St. Jude is the greatest honor of my life. Temporarily stepping away from my PA job to train as an astronaut was difficult. But through it all I felt confident, knowing I was helping the kids in a different way.
This experience filled me with even more purpose.

Encouraging Childhood Cancer Patients
When I was asked to go to space, I said yes to show kids going through cancer treatment how beautiful life after cancer can be. There are no bounds to what you can accomplish.
The sky is no longer the limit. And I am only one person representing many.

So…how was space?"

I get asked that question every day. The answer: Space was amazing. Excuse the corniness, but the views we saw were truly out of this world. The earth is so large. But, at the same time, it's so small.
We circled Earth every 90 minutes, quickly transitioning from day to night, over and over. Earth from space is the most beautiful thing I've ever seen. It's vibrant and alive.
We spent our 3 days in orbit following protocols, doing research, and enjoying the views.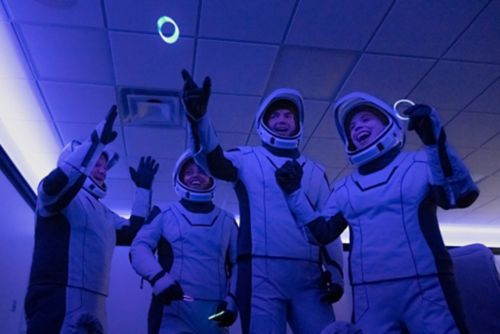 I knew I had 3 days out of my entire life to live without gravity, and I wanted to take full advantage.
I loved floating and doing flips in the air. I was constantly doing flips or being upside down just because I could. I slept in a sleeping bag hovering over my seat with a seatbelt around it, so I didn't float off in the night.
We played with our food in space more than we actually ate it. Eventually, I was able to catch a peanut M&M in my mouth.
The most meaningful moment for me, though, was calling St. Jude patients from space. I loved hearing their questions and showing off our capsule.
I hope the call showed everyone watching that they can achieve whatever dreams they have.
Seeing Earth from 360 miles above its surface made me feel so united with my fellow earthlings. From space we saw land without borders. It was a beautiful way to demonstrate that we are all one.
Going Outside Your Comfort Zone
I hope to use this experience to continue helping my fellow earthlings in any way I can. But you don't need to go to space to share this outlook. We each have unique ways we can help others and contribute to make our world a better place.
Going to space was the most incredible event of my life. But I had to get out of my comfort zone to do it. Leaving my comfort zone has opened up all of my best life experiences.
Having cancer gave me such a love and zest for life and a confidence to say yes to opportunities that could change my life, even if they seem scary.
I would encourage you to say yes to the next opportunity that could change your worldview, in whatever way that may be.
Find related content on Together, including articles on: