Cancer Survivor Helps Others Get the COVID-19 Vaccine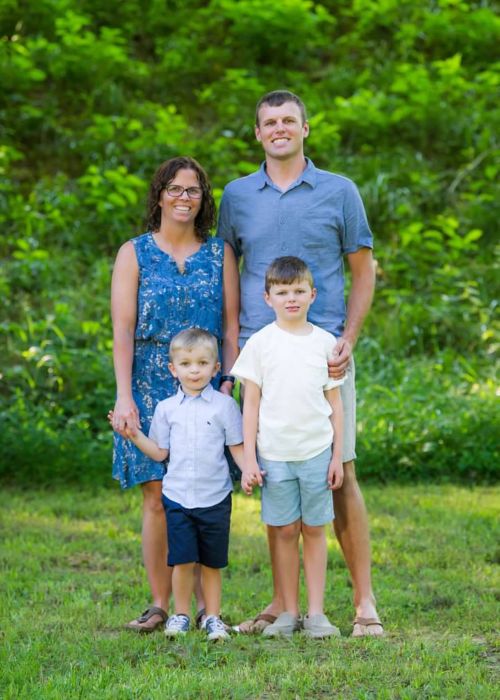 Just call Katie Weyer the COVID-19 vaccine crusader. Dozens of people who have gotten the vaccine in the southern Indiana area can thank the Hodgkin lymphoma survivor that they are protected against the disease.

Katie has made it her mission to get everyone she can vaccinated against COVID-19.

The Tell City, Ind., teacher and track coach has chronic lung and breathing problems because of the chest radiation and chemotherapy she received as a cancer patient at St. Jude Children's Research Hospital when she was in college. Bleomycin is one of the medicines she was treated with. It effectively treated her cancer but also damaged her lungs.
People with chronic lung conditions are at increased risk of getting sick and dying from COVID-19. Katie has problems with breathing. For example, climbing a flight of stairs often leaves her out of breath.
Waiting Game for the COVID-19 Vaccine
Katie took each day at a time from the beginning of the pandemic until she could get the vaccine. Her wait started March 13, 2020 -- the last day of school before spring break. When she left town with her family to go to Navarre Beach, Fla., everything seemed OK.

"It started out fine but by the end of the week I was scared and ready to go home," Katie said.

Her school extended the break for another week. That extra week turned into the remainder of the school year. Track season was canceled. She taught classes from home while her children, ages 7 and 4, finished their schools online.

In the fall, students and teachers returned to school. Even through many precautions were put into place, she came into contact with people who had tested positive for COVID-19.

"I felt like it was just a matter of time before I got COVID," Katie said. "We all went into retreat a little bit. I kept waiting. I took my temperature constantly. I have a pulse oximeter, so I kept taking my oxygenation level. I read a lot of information. I googled everything. My big toe hurts – Is it COVID?"
Luckily Katie did not get it. Then the Pfizer vaccine was authorized by the Food and Drug Administration in December 2020. Once the vaccine became more available to the public in early 2021, Katie became an expert in locating places to get vaccinated and signing up family, friends, and co-workers who were eligible to get it. Then on a snowy day in February, she got her chance.
One minute she was playing in the snow with her kids. The next she was headed to the local hospital after getting a phone call: "How soon can you be here?" Her name had been placed on a waiting list to receive a first dose of the COVID-19 vaccine. Katie couldn't get there fast enough.
"I had several layers of clothing on. I showed up looking like the Abominable Snowman," Katie said.
A few weeks later, she got the second dose.
"I wanted to shout it from the rooftops," Katie said. "Yay me! This is so exciting."
Making a Case to Get Everyone Vaccinated
Katie continued helping anybody and everybody get the vaccine. She ended up securing appointments for dozens of fellow teachers.
Katie knows it's not enough for just a few people to get vaccinated.
"I had to have hard conversations with people," Katie said of people she talked to who didn't want to get the vaccine. "You're healthy and young. You might be fine. I hope I would be fine if I got it, but I can't bank on that. COVID. This is real. This is still happening."
Find related content on Together, including articles on: