Sarah Daniels, MS, CCLS
Certified Child Life Specialist
St. Jude Children's Research Hospital
Sarah Daniels, MS, CCLS, (pronouns she/her/hers) is a Certified Child Life Specialist at St. Jude Children's Research Hospital in Memphis, Tennessee and a doctoral candidate in Educational Psychology and Research at the University of Memphis. Her research and quality improvement interests include evaluating the feasibility, efficacy, and role of child life services in the hospital setting, trends in technology use and youth development, psychosocial aspects of adolescent and young adult oncology, and mixed methods research design. Sarah is a member of the Review Board for the Journal of Child Life: Psychosocial Theory and Practice and a fellow in the inaugural class of the Association of Child Life Professionals' Research Fellows Program.
Posts by Sarah Daniels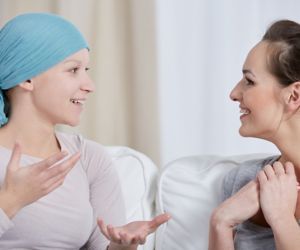 Should I Share My Cancer Diagnosis?
April 4, 2022
Family and friends may have questions about your cancer diagnosis, but you can set boundaries on how that information is shared. It is important to feel prepared about when, how, and what to disclose about your cancer experience to others.
Read this blog post